Understanding Veterans Affairs (VA) loans can be a daunting task for many prospective homeowners.  In this article, we will try to shed light on VA loans and provide guide for Minnesota homebuyers navigating the home buying process.
Benefits of a VA Loan
VA loans are a tremendous benefit offered to military veterans, active-duty service members, and select military spouses. Introduced in 1944,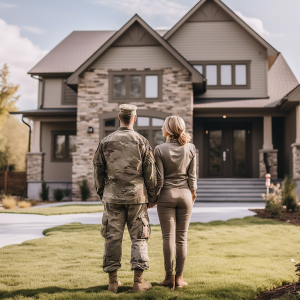 VA loans have helped millions of veterans and their families achieve the American dream of homeownership.  VA loans are unique because they are guaranteed by the U.S. Department of Veterans Affairs.  This guarantee allows lenders to offer more favorable terms, including competitive interest rates, no down payment, and no private mortgage insurance (PMI) requirement.
One of the key benefits of a VA loan is the no down payment requirement.  Traditional loans typically require a substantial down payment–often 20% of the home's value.  With a VA loan, eligible buyers in can purchase homes without this significant upfront cost.
Another advantage of VA loans is the lack of a PMI requirement.  Most conventional loans require borrowers to pay PMI if they cannot make a 20% down payment.  This insurance protects the lender if the borrower defaults.  VA loans, however, don't require PMI, leading to significant monthly savings.
VA loans also offer competitive interest rates. Since these loans are backed by the government, lenders assume less risk and can offer lower rates. Lower interest rates translate into lower monthly payments, making homeownership more affordable for our military families.
It's important to note that VA loans are reusable. Veterans who have used their VA loan benefit can use it again for subsequent home purchases.
VA Loan Eligibility
Eligibility for VA loans is primarily based on service history.  Veterans, active-duty service members, National Guard members, and Reserve members may be eligible.  Some surviving spouses of service members who have died in the line of duty or as a result of a service-related disability may also be eligible.
Eligibility is determined by specific service requirements, such as length and type of service.  The Department of Veterans Affairs provides a detailed list of these requirements on their website.  Potential borrowers can also apply for a Certificate of Eligibility (COE) through the VA, which is a document that verifies to lenders that you meet the necessary service requirements.  While the VA sets out these basic eligibility requirements, lenders may have additional criteria, including credit and income levels.  Therefore, it's crucial for potential homeowners in to maintain a good credit score and stable income.
VA Loan Application Process
The application process for a VA loan involves several steps.  First, prospective borrowers must obtain their COE.  This can be done online through the eBenefits portal on the VA website, by mail, or through a lender.  Once the COE is obtained, borrowers can proceed to prequalify for a loan.  This involves a lender assessing the borrower's credit score, income, and other factors to determine how much you might be eligible to borrow.  After prequalification, a borrower can start house hunting in their preferred Minnesota community.
The final stage is the actual application. This will involve submitting financial documents and going through underwriting before the loan is approved.  It's advisable to work with a reputable lender who understands the VA loan process to ensure a smooth application and approval process.
VA loans can provide a fantastic pathway to homeownership for our nation's heroes.  With benefits such as no down payment, no PMI, and competitive interest rates, it's an opportunity worth exploring for eligible homebuyers.  When it comes to closing VA loan-related real estate transactions in Waconia, Buffalo, Cokato, Chaska, Hutchinson, and surrounding Minnesota communities, Title Mark has the expertise to make your home purchase closing successful.